Teresa Giudice is an American reality star who is best known for her role on the reality series The Real Housewives of New Jersey. She made a name for herself as one of the most explosive housewives, who is often be seen arguing with fellow cast members as well as family members. She was dragged further (and negatively) into the spotlight when her and husband Joe were faced with mail fraud, wire fraud, and bank fraud charges in 2009. She faced a 15-month stint in jail and was released in December 2015, whilst her husband's 41-month sentence began in March 2016. If you've ever seen Teresa Giudice house then you'll know how hard those sentences must have been!
Where does Teresa Giudice live?
Housewife Teresa Giudice's house is located in Montville Township, Towaco, New Jersey. How much is Teresa Giudice house? Teresa and her husband Joe bought their mansion's plot of land back in 2002 for just $530,000 which is just a small portion of the $3.99 million they tried to sell it for in 2014 amid their court dealings. They took it off the market and still live there.
The home has been featured many times on The Real Housewives of New Jersey, where it shows its grand entrance which includes double cinderella staircases. And of course the master bedroom is luxurious and brilliant. It includes three, yes three, walk-in closets, a fireplace, a bathroom with a steam shower and huge soaking bathtub, and onyx tiles.
How many rooms and bedrooms is Teresa Giudice house? The property features 6 bedrooms and 6 bathrooms and spreads across an incredible 10,044 square feet. The kitchen is one of the main features and is perfect for entertaining a ton of guests. It has a large central island and a butlers pantry.
The mansion is still home to the family, despite it going under foreclosure due to missed mortgage payments. Unfortunately, Teresa and her family lost their vacation home in Manahawkin Beach during their trial (more on this later).
Check out more Teresa Giudice House Photos and Address here!
How does Teresa Giudice keep her mansion house?
What happened to Teresa Giudice house? Although the home went into foreclosure in 2015 due to missed payments, the Giudice's were able to rectify their mistakes and hang on to their home. How they did it is still a mystery.
Here's a clip from RHONJ that took place in their home:
Teresa Giudice house before the mansion?
Teresa Giudice beach house was another New Jersey home that she and her husband prior to their highly publicized money and prison problems. Located in Manahawkin Beach on the Jersey Shore, the couple bought the home in 2005 for $347,000. The home was taken into foreclosure and was brought back by the bank for just $100. It was then purchased by new owners in 2017 for just $127,000. The new owners have reportedly totally demolished the home and are completely starting again.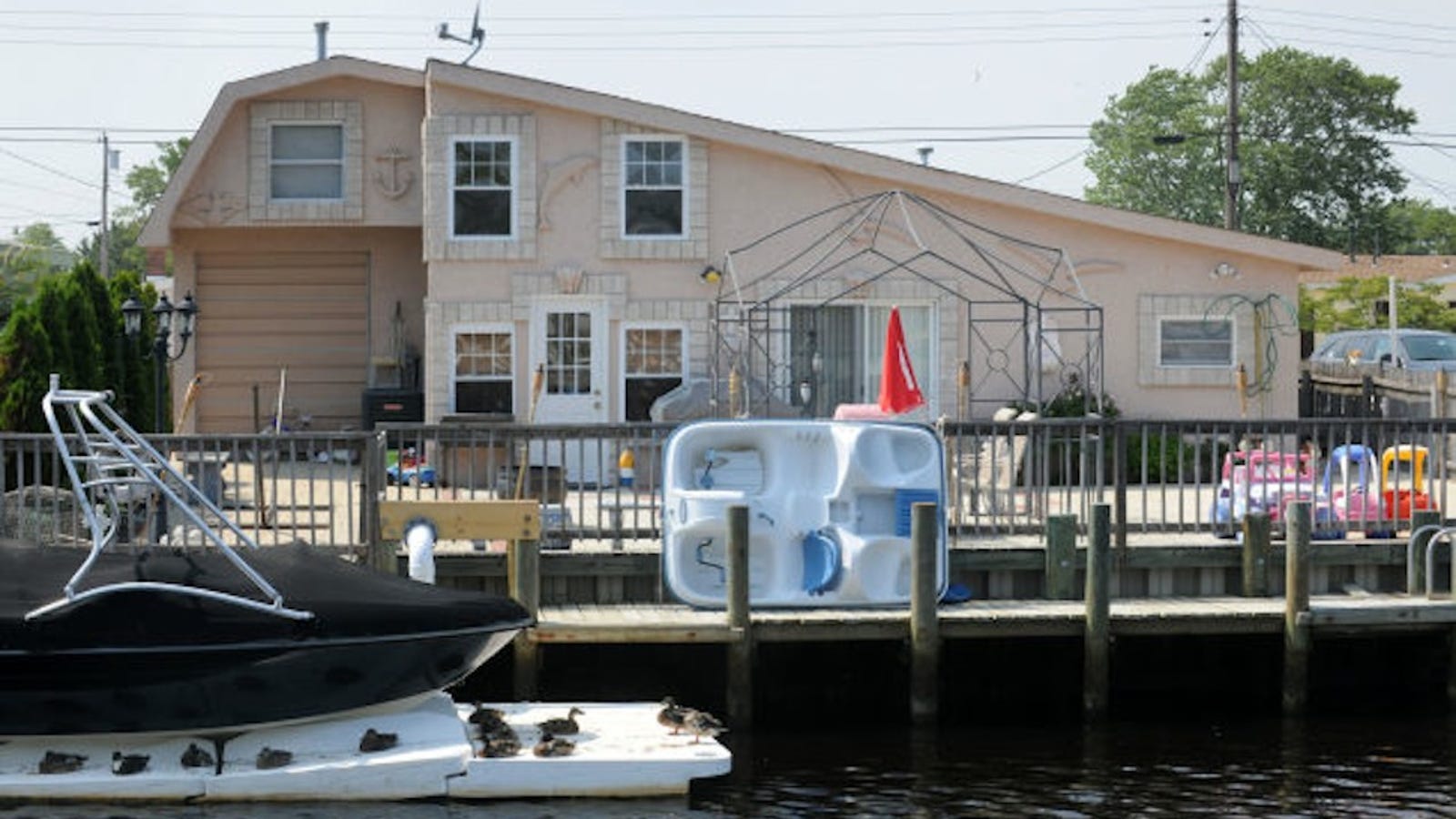 Is Teresa Giudice still married?
Yes, she is still married to her husband Joe. Teresa is living at her Montville home after completing her 15-month jail sentence for fraud. She was released in December 2015 and is now raising her 4 beautiful daughters. Her husband is now serving his time, which is a lengthier sentence of 41 months. Rumors sparked that the couple was separating when she posted on social media that she was 'getting great advice' from her friend Loren who is a divorce lawyer. She hit back at the claims by saying "the divorce lawyer is my friend and I knew exactly what I was putting out there and if I was getting a divorce, you think I would put it out on social media that way? It's so funny to me how people take something and run with it. It's crazy!"
Rumors flew around again when the media claimed she was spending time with a 'mystery man' whilst on vacation with her daughters and father when husband Joe was behind bars. She settled these false accusations by saying, "I was with my father and four daughters. They don't even have one picture of me with anyone else except my girlfriends, my dad, and my daughters."
Another thing that convinced fans, family and friends that the 45-year-old was ready to walk away from her marriage was because of her well-known rage and angry with her husband over the whole situation. She very openly blames Joe for everything and has spent a lot of time feeling a lot of anger towards him. She even went for almost 8 months without visiting Joe in jail. When she finally went to see him though, he apologized profusely for his mistakes over the years, and the couple seems to have reconciled and are in a good place.
How much money does Teresa Giudice make?
Although Teresa has been through hell and back with she and her husband's finances over the past few years. Because of that, it's reported she has a negative net worth: -$11 million. Prior to her financial turmoil, she has made her fortune through starring on the Bravo reality series The Real Housewives of New Jersey, as well as selling cookbooks and writing a memoir of her life. All four of her books have been featured on the New York Best Sellers list. She also had a three-episode spin-off show called 'Teresa Checks In' which showed her life after jail and also included real recordings of her calls to home whilst she spent time behind bars.
Is Teresa Giudice broke?
In October 2017, RadarOnline reported that the reality star was 'flat broke' and was fearful that she wouldn't be able to pay college tuition for her girls. Her lawyers hit back though to cleared up her actual financial situation. They stated that Teresa being 'flat broke' was 'untrue in every way.' RadarOnline has misreported stories about Teresa before, including that she had her home raided by federal agents, and even that she was set to join the cast of Dancing With The Stars.
How is Teresa Giudice doing?
Teresa has been out of jail now for over a year and is enjoying being able to spend time with her four daughters, Gia, 17, Gabriella, 14, Milania, 13 and Audriana, 9. She is raising them practically as a single mother, as her husband, Joe is still behind bars serving his 41-month sentence which began back in March 2016. Speaking of how she is coping without Joe, and how he has been moved to another facility, She told People magazine, "It's been a while now, so I'm kind of just used to it. He's only a half hour farther away. And it's fine because it's a camp facility, so it means that he's closer to coming home. In his situation, it's a good thing."
However, after Joe finishes his long sentence, he could potentially face being deported back to his native country of Italy. Although he immigrated to the United States as a child, he never became a citizen and so as a US resident, he can be deported pretty easily. Speaking about her husband's potential move across the ocean, Teresa took People magazine, "I mean, Italy's a beautiful place to live. I wouldn't mind, you know, I'm just saying. Listen, whatever God has planned for me, that's what's going to happen. I will embrace it the best I can."
Sources
https://www.trulia.com/blog/celebrity-homes/new-jersey-housewife-theresa-giudice-house/
https://www.zillow.com/homedetails/6-Indian-Ln-Towaco-NJ-07082/39445722_zpid/
http://www.dailymail.co.uk/tvshowbiz/article-4145610/RHONJ-s-Teresa-Joe-Giudice-s-one-time-home-demolished.html
http://www.nj.com/entertainment/celebrities/index.ssf/2015/08/teresa_giudice_foreclosure_auction_jersey_shore_ho.html
https://people.com/tv/teresa-joe-giudice-not-divorcing/
https://www.eonline.com/uk/news/908900/teresa-giudice-explains-why-she-d-rather-not-see-husband-joe-every-week-in-prison
http://www.dailymail.co.uk/tvshowbiz/article-5256905/RHONJ-Teresa-Giudice-gets-apology-Joe-prison.html
http://www.nj.com/entertainment/celebrities/index.ssf/2015/11/teresa_giudice_foreclosure_dismissed_montville.html
https://people.com/tv/teresa-giudice-move-italy-if-joe-deported/